So while there are still a number of people posting on how much the love Laurie D'Alleva and her videos touting the benefits of do it yourself Botox, there are a growing number of people who still have a non-paralyzed thought or two that are coming forward to talk about the problems you might have pumping fillers into your face. Perhaps the do it yourself Botox crew are also attracted to Trepanation.
Here's a story from ABC:
Some consumers are ordering prescription-only cosmetic products online and injecting themselves at home. One woman who self-injected her face with filler said it caused bags and lumps under her eyes, and a hard, infected pustule on her cheek.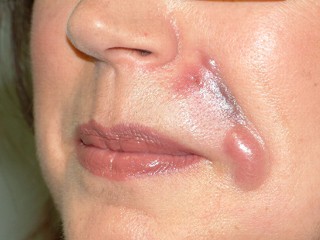 For millions of Americans, the solution to crow's feet, thin lips, and frown lines is at the end of a syringe, or in a bottle. A quick trip to a medical spa, dermatologist or plastic surgeon for a Botox injection, lip augmentation or chemical peel offers the promise of a youthful look.
But these cosmetic procedures — and the medical expertise that comes with them — don't come cheap. For a single treatment of Botox, doctors charge about $380; for lip-plumping injections, over $500; and for a chemical peel, a whopping $700.
These high prices are enough for some consumers to take their business away from medical professionals, and go instead to the Web. They are "doing it themselves," ordering prescription-only products online, and injecting themselves at home.
Laurie D'Alleva, of Mansfield, Texas, is a big fan of "DIY" beauty injections and treatments. She is the face of a DiscountMedSpa.com, a website stocked with what she claims are pharmaceutical-grade cosmetics, similar to Botox, Restylane, and Retin-A.
Self-injecting botulinum toxin might sound dangerous, but D'Alleva, 39, tries to put her customers at ease with informational videos, complete with tips and pointers on how, and where, to inject. "It doesn't hurt… It's easy," D'Alleva claims in one video, as she stands in front of a mirror and injects her face repeatedly.
Watch the investigation on "20/20" TONIGHT at 10 p.m. ET
Disaster isn't what "Alex," a paramedic, had in mind when she visited DiscountMedSpa.com a few months ago. In her 40s and dating, she just wanted to improve her look, and save some money. She asked ABC News not to disclose her identity.
After viewing "every one" of the instructional self-injection videos on D'Alleva's site, Alex was convinced she could do it herself, since using needles was part of her job.
"Why should I pay somebody else that got a few hours of training to do something I think I can do pretty easily?" she said she thought at the time.
Alex paid $450 for a DiscountMedSpa.com products including an injectable facial filler. She says she injected the products under her eyes and alongside her mouth.
But "the next morning, I woke up horrified by what I saw," she said. "Literally, my heart started pounding, and I thought, 'What have I done, what am I going to do?'"
DiscountMedSpa.com isn't the only website selling treatments normally reserved for a doctor's office. Chemical peels are readily obtainable from dozens of Web sites, and like Alex, the people who buy them don't always know what they are getting.
Alex said the injections caused bags and lumps under her eyes, and a hard, infected pustule on her cheek. Desperate, she turned to Dr. Jerome Potozkin for help.
"I had an 'Oh-my-God' moment," Potozkin said, "when I looked at her and I saw this huge abscess on her cheek. Then she told me it was from a filler that she ordered from an Internet Web site and injected into herself."
Although Alex's condition was serious, it could have been worse. Potozkin told "20/20" that if she had gone just a few millimeters in the wrong direction, she could have "literally punctured an eyeball," or hit a blood vessel — potentially causing blindness.
The product Alex ordered from DiscountMedSpa.com was labeled "Vitalift," but there is no such product on the list of FDA-approved pharmaceuticals.
Other products for sale included injectables "Restylin" and "Artefil," and a "chemical peel" whose description included a "mystery" ingredient.